| | |
| --- | --- |
| Posted on March 11, 2009 at 8:44 AM | |
Carrie Potter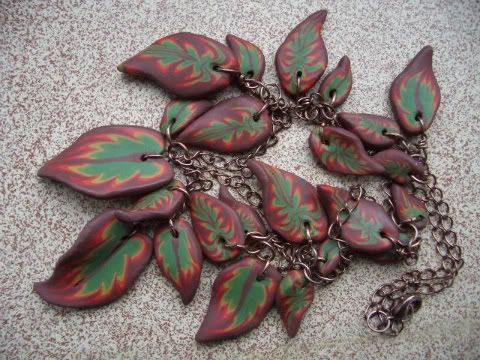 Inspired by "Falling Leaves" by Adeline Yen Mah
I started threading beads about 20 months ago, after seeing photos of beautiful work by an internet friend....and fatally, some beading sites! I was amazed at what could be achieved and also by the variety of beads and beading supplies that were available - many years previously I had threaded up a few beads now and then but there wasn't much choice in the shops. Needless to say I very quickly built up a stash of beads - generally bought with no idea of their future use.....that hasn't changed.
It wasn't long before I came across a whole community of talented people making wonderful things out of polymer clay - I couldn't wait to have a go!
I am flitting from seed beads to fimo; stringing one day, trying wire wrapping another....what an amazing, horizonless, and exciting world!!
I want to give a big thank you to KK for running this lovely forum, and to all the members for their constant help, encouragement and inspiration, and above all for voting for my "Falling Leaves" necklace - thank you, one and all!